Legend of Keepers
New recruits from the depths of hell (0.5.2.1)
---
You have been proving yourself and have become famous in the region. New monsters are now willing to work under your orders in the Dungeons Company!

Here's a quick overview of these 3 demonic creatures!
Let's start with the first one! Made of living stone, this flying Gargoyle will scare heroes to death!
Here's the turn of the Flame Eater! This vicious fire entity will burn down adventurers into ashes in no time!
And the best one for the end: the Infernal Guardian! When this greater demon will work for you, the squishiest humans won't be able to hide behind their tanky friends anymore!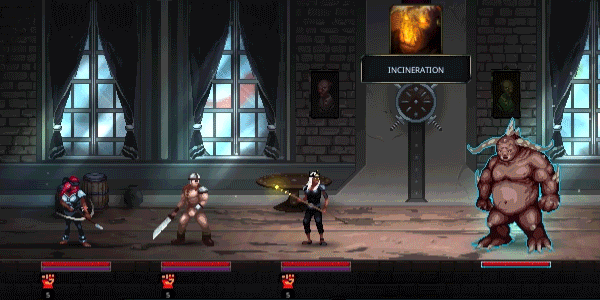 New norms to adapt to…
The dungeon industry is constantly evolving. The high council of dungeoning is always revising or adding laws for dungeon companies.
We're no exception and we have to respect them.
Too many heroes have been defeated easily lately (you must be the main responsible for this). It resulted in a decrease of adventurers interested in plundering, and actions had to be taken.
You will now have to choose between half of your active employees team and pool of traps when placing your forces.
We hope you'll still show us that your the best one for the job!
-------------------------------------------------------------------
Patch notes for update 0.5.2.1:
Features, improvements and balancing:
Gargoyle, Flame Eater and Infernal Guardian are now available in game!
Draft system overhaul: number of monsters and traps picked randomly for a room during preparation phase is based on the active employees team and traps.
Lots of balancing for heroes.
Lots of balancing for monsters.
Slaveholder is now bulkier.
Changed Slaveholder's Hold the line! spell to Show No Mercy! (applies Enraged to the next group of monster instead).
Masters have now a Regeneration stat healing them for a few Life points each week.
Balancing for artefacts effects.
Artefacts max level is now 3 (reduced from 5).
Added some new artefacts.
Artefacts level is now displayed with gems in the UI in addition to being displayed in their tooltip.
Effect stacks are now lost at the end of a fighter turns instead of at the start (damage over time are still dealt at the beginning of the turn).
Skeleton Lord's passive revamped: Applies 3 stacks of Enraged to all Skeletons at the start of a dungeon.
Added a progressive animation on life and morale bars.
Several monsters can now be upgraded once with the Trainer.
Several traps can now be upgraded once with the Engineer.
Several monsters/traps can now be bought in the Shop.
Added a new button in the Shop to refresh the elements available by paying some gold.
The end of run/game over screen is now displaying the dungeon master's score.
Monsters and traps obtained by transmuting an artefact with the Alchemist are now given with a level calculated from the level of the artefact transmuted.
Adjustments made to several Events.
Demoralised has been renamed into Terrified and Depressed has been renamed into Demoralised to avoid confusion between the two effects.
Gold is now displayed on the reward screen.
New team management button with a tooltip on the Schedule scene.
Added sound on buttons still missing one.
Bugs fixing:
Fixed score displayed incorrectly on the end of run/game over screen.
Fixed effect description not displayed correctly on a few traps, attacks and spells.
Fixed an issue with the language chosen in the settings.
Fixed several UI issues tied to screen resolution.
Lots of other minor bugs fixed that would be too long to write down.
Files
LOK_DEMO_DISCORD_v0.5.2.1_Windows.zip
60 MB
Sep 07, 2019
LOK_DEMO_DISCORD_v0.5.2.1_Mac.zip
59 MB
Sep 07, 2019
LOK_DEMO_DISCORD_v0.5.2.1_Linux64.zip
60 MB
Sep 07, 2019